ISTAR Ltd was incorporated in New Zealand as a not-for-profit pharmaceutical company in February 1999. It was formed by five doctors to import Mifegyne® (mifepristone) from France because no established pharmaceutical firm was willing to import.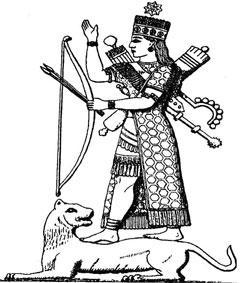 The founding directors were: Dr Diana Edwards, Dr Carol Shand, Dr Margaret Sparrow, Professor Peter Stone, Mr John Tait and in 2007 they were joined by Dr Simon Snook. Diana Edwards retired in 2012, then in 2021 Professor Peter Stone and Mr John Tait stepped down to be replaced by Dr Gillian Gibson and Dr Alison Knowles.  In 2022 Dame Margaret Sparrow resigned and Dr Simon Snook resigned and were replaced by and was replaced by a pharmacist, Mr Simon Ogden.
Any profits are used for the benefit of women's health in New Zealand.

ISTAR Ltd was named after the Mesopotamian goddess of love, fertility and war. She was also known as the goddess of the night and the light bringer. Her name has various spellings - Istar or Ishtar and is usually pronounced Ish-tar. One of her symbols was the 8-pointed Star of Babylon
HISTORY OF ISTAR LTD
In May 2000 ISTAR Ltd signed an agreement with Exelgyn the French Company which distributes Mifegyne®.
In June 2000 ISTAR Ltd applied to Medsafe, Ministry of Health, for approval of Mifegyne® as a new higher-risk prescription medicine.
The application was approved for four indications:
early medical abortion
priming the cervix before surgical abortion
second trimester medical abortion and
induction of labour for fetal death in utero.
On 30 August 2001 a notice of approval was published in the Gazette. The first import arrived in September 2001 and was first used in Wellington in October 2001 for a second trimester abortion.
The introduction of an early medical abortion service was delayed because of an ambiguity in the law which was not resolved until April 2003 when a High Court judge determined that both drugs (mifepristone followed by a prostaglandin) must be given in a licensed premise. Until this decision Level J Unit in Wellington Hospital was the only clinic offering an early medical abortion service. (See Reference 1.)
Since this time there has been a steady increase in clinics offering early medical abortion throughout New Zealand and Australia. Istar Ltd is the sole supplier of Mifepristone within New Zealand.
In 2008 Istar Ltd formed a relationship with Womancare Global (the marketing arm of IPAS Ltd in the USA) to import and supply MVA equipment within New Zealand.
CHARITABLE PURPOSES
a) to provide medical services to women of New Zealand;
b) to support health-related research in New Zealand;
c) to support relevant women's health care providers in New Zealand;
d) to develop the objecting of the company in keeping with the spirit of the Treaty of Waitangi;
e) to develop and enhance the co-operation with other agencies or organizations in New Zealand with objects identical or similar to those of the company;
f) to do all things as may from time to time be necessary or desirable to enable the company to give effect to and to attain the charitable purposes of the company.